ZO Skin Health
ZO Skin Health products by Dr. Zein Obagi are medically prescribed to improve the overall health and appearance of the skin Zo consists of several anti-aging regimens which will be recommended by Dr. Paciorek and his Cosmetic Nurse to support your skin care needs.
Normally, the GSR-System (getting system ready) is introduced first in order to ready your skin for a Level ll or Level lll anti-aging Kit. Individual products are also available.
These products can be purchased in the office after your skin has been evaluated by Dr. Paciorek to determine which products are best for your skin care needs.
Call for a free consultation.
You can also order products from our ZO store:
Purchase ZO Products Here
ZO Anti-Aging Kits:
The most prescirbed anti-aging kits (pictured below) are:
Phase I- Daily Skincare Program (Starter Kit)
Phase II- Anti-Aging Program
Phase III- Aggressive Anti-Aging Program
Phase I- Daily Skincare Program (Starter Kit)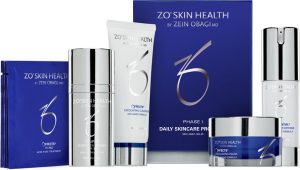 Phase II- Anti-Aging Program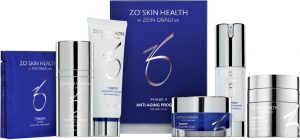 Phase III- Aggressive Anti-Aging Program