Currently open for complimentary in-person consultations:
To ensure your safety and well-being, we have redesigned and implemented a number of new operational procedures:
Staggered Appointments: We will be staggering appointments to ensure time to wipe down spaces to maintain a safe and clean environment.
No Crowded Waiting Rooms: If the waiting room is at capacity you may be asked to wait in your car until we can bring you in.
Screenings: We will be screening patients on the phone at the time of their appointment to ensure they are healthy. We will continue to offer Telemedicine.
Healthy Staff: All staff will be screened daily to ensure they are healthy.
Protective Equipment: We ask that patients come to their appointment with a mask/face-covering!
Limited Visitors: To limit the number of people in our office we ask that patients come alone to their appointments. Visitors will be asked to wait in the car. This does not apply to patients who are minors or caretakers.
Call Us To Schedule Your Appointment!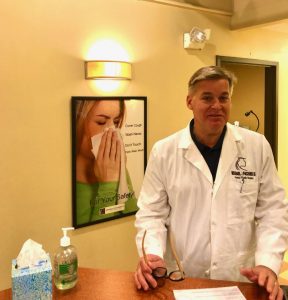 Dr. Paciorek offers a full range of Facial Plastic Surgery Procedure and Treatments
These procedures include rhinoplasty, facelifts, eyelid surgery, otoplasty, and brow lifting. The nonsurgical facelift and mini-facelifts offer new alternatives to rejuvenation with limited downtime. Our nonsurgical alternatives include the use of injectables such as Botox, Restylane, Radiesse, and others, laser resurfacing treatment, and skin tightening treatments.