Eyelid Surgery (Blepharoplasty)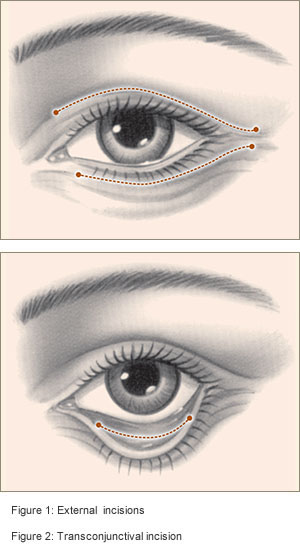 What You Can Expect:
Eyelid surgery can dramatically improve your appearance. Blepharoplasty, can improve the following changes that may occur with age:
Drooping or Sagging Eyelids
Bags or hollows under the eyes
Puffy Eyelids
This procedure cannot alter dark circles, fine lines and wrinkles around the eyes, nor can it change sagging eyebrows. If these are a concern to you, talk to the Doctor about options to address these.
After your free consultation with the doctor, a customized procedure and follow up plan will be made for you. The surgical procedure will be done in our private in-office surgical suite with your own individual recovery area and nurse. Typically, a Blepharoplasty takes between half an hour to two hours.

* Please note that results may vary from person to person and results are not guaranteed.

After Your Blepharoplasty Procedure
Once completed, you will experience some lid tenderness and will have cold compresses applied to reduce swelling.
Our staff will care for you in our private recovery area and you will be able to leave the office through a separate exit. You will be assisted in your recovery process by our trained nurses and support staff. A typical follow up routine may include:
Going home the day of the surgery
Check in with the Doctor the day after surgery
You may be able to return to your normal schedule after 3-5 days.
Second follow up appointment after a week
Changes will be noticeable right away and complete healing may take several months to a year.
Swelling can take some time to subside and depends on the extent of the procedure.
Consider Combining Blepharoplasty With:
You may want to discuss combining your blepharoplasty with other treatments. Some of the options you can discuss with the Doctor at your consultation include:
View our Results Gallery